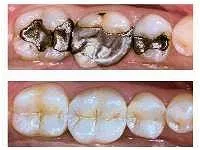 Tooth colored fillings are an excellent cosmetic option for those patients who do not want the look of silver in their mouths. These natural looking fillings can be used to treat decayed and cracked teeth, and can also be used to replace older silver fillings. Composite resins are bonded to the teeth to provide a long lasting, durable restoration.

Procedure

The bonding procedure is completed in one visit. The first step is to remove the decayed, unsightly portion of the tooth or the old silver filling. The tooth is then etched with a special conditioning gel, and a bonding agent is then applied. This will allow the tooth colored composite resin filling material to be bonded to the tooth. It is then trimmed and polished, leaving you with a beautifully sculpted, natural-looking restoration.
Durability
These restortations can last many years, however they may not be as durable as laboratory processed inlays, onlays and crowns.