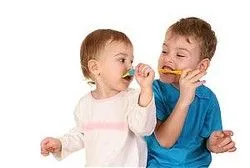 Treating youngsters has always been one of the more enjoyable aspects of our practice. We find that our many years of treating children, coupled with our understanding and patient staff, helps ease the adjustment for many children.

Initial childhood dental experiences often set children's lifelong attitudes toward the dentist and dentistry in general. It is very important that a proper introduction to dentistry be made for children and continued every six months throughout life. A major problem often observed is a child's tremendous fear of physicians and dentists due to a previous bad experience or unknowingly by parents or friends.

We strive to make a child's first visit as comfortable as possible. We recommend that the first visit be for an examination and dental cleaning. At that visit we will introduce the child to the equipment and new surroundings.

It is often a good idea, to have your child accompany you or a sibling to a check up visit, where they can familiarize themselves with the office and observe some of the basic procedures.

It is also important to speak positively about their upcoming visit, as well as your dental appointments. There are several children's books which are helpful to introduce the child to what can be expected at his or her visit.